E-Verify® is a registered trademark
of the U.S. Department of
Homeland Security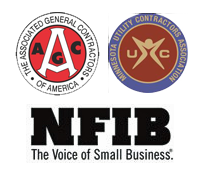 Safety
---
S.R. Weidema is committed to safety, and promotes safety awareness to the public, as well as our employees.
S.R. Weidema's Safety Team has developed a strong safety policy that protects its employees, its property and the public from accidents and injuries. Safety inspections are conducted on a regular basis to ensure safe working contitions on all of our jobsites. Our employees recieve recognition for their "Safety Excellence" through our Safety Incentives Program.
S.R. Weidema encourages participation in our "Safety Program" by all employees and commits itself to provide proper equipment, training and procedures. A drug free, injury and accident free workplace is S.R. Weidema's goal.