E-Verify® is a registered trademark
of the U.S. Department of
Homeland Security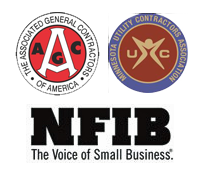 About us
---
S.R. Weidema was founded by Scott Weidema and was incorporated in 1992. Scott Weidema serves as President and is completely involved in all aspects of the company.
S.R. Weidema has operated throughout the midwest and has maintained the highest standards in waterline, sewer line, storm drain, and site development projects. We focus on quality assurance and client satisfaction. S.R. Wiedema has an excellent record of projects and is proud of its client list. S.R. Weidema is ready to mobilize as required to meet your project needs. Services are provided to the state, cities, counties, municipalities, and private developers.
We have the project management expertise to deal with projects of every size and complexity. Whether it involves ground water, rock, deep excavations, or other challenges, S.R. Weidema has both the equipment and personnel to handle the job. Our adaptability provides each owner with the services each project needs in a safe, timely and cost effective manner. Our approach to work is governed by the site, rural or urban and in all environments our priority is to minimize disruption. Regardless of your project's scale, we are ready to move our people and equipment on site when your requirements dictate. With our expertise, dedication and capability, we successfully complete our projects ahead of schedule and within budget.
S.R. Weidema has an experienced staff dedicated to following all safety rules and regulations. We are proactive in efforts toward construction education, training environmental awareness and regulatory compliance.
If you are interested in employment with S.R. Weidema, please complete the attached application.

You can mail or drop off the application:
17600 113th Avenue North Maple Grove, MN 55369
or fax to this number 763-428-9095