E-Verify® is a registered trademark
of the U.S. Department of
Homeland Security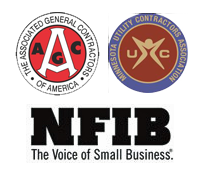 Expertise
---
Project Management/Estimating

Our project management and estimating team has over 80 combined years of experience in this field. They are capable of turning out a timely cost estimate, and will set the wheels in motion for the equipment to arrive on site and guide your project from start to finish while keeping you informed.

Earthwork/Site Grading

S.R. Weidema has highly qualified personnel and an equipment fleet that is prepared to grade any project, from large developments to construction or reconstruction of city, county or state roads. Our experienced superintendents, foremen, and operators are capable of producing a site that meets all the requirements of the project. With the use of state of the art global positioning system machine control (G.P.S.), we are able to set grade & check grade, which enables us to cut grade faster, and more accurately minimizing re-work. S.R. Weidema is able to provide a high quality, clean and uniform product in a precise and timely manner.

Water Distribution Systems

For years, S.R. Weidema has provided municipalities, cities and private developers with water distribution systems. Our services include installation of the pipe, storage tanks, and pumps that convey water from the water treatment locations, to the customers.

Sewer Systems

We install prefabricated storm water treatment systems, new sanitary sewer systems, as well as reconstructing existing sanitary and storm sewer systems on municipal, residential, commercial and industrial projects.

Siltation & Erosion Control

Our certified inspectors and installers provide siltation and erosion control on our worksites in accordance with local, state and federal requirements thereby providing environmental protection necessary today. Whether the project calls for temporary or permanent seeding, insulating with fiber blankets, silt fence, inlet protection, catch basins or temporary sediment basins S.R. Weidema is prepared for the job.

Demolition

Our company's versatility limits the need for multiple contractors on your site. Existing structures on our worksites are quickly and safely demolished using our manpower and our horsepower. We are able to recycle material such as concrete rubble and crush it to MNDOT specs to be used elsewhere on the project to cut cost to our customers.

Dewatering

S.R. Weidema does most of their own dewatering, we have our own wellpoint pumps and systems, electric pumps from 1HP  to 25HP. We have hydraulic pumps and generator sets from 5KW to 100KW. We can handle even the largest jobs.

Public Works

S.R. Weidema is always available to assist cities with anything that may come up. We are available 24 hours a day, seven days a week. We have helped many cities fix broken sewers and watermain's, and have very competent employees to do the job.