E-Verify® is a registered trademark
of the U.S. Department of
Homeland Security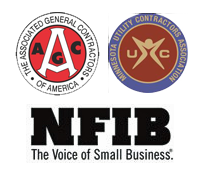 Project - East Bethel
---
Title: East Bethel Interceptor
Location: East Bethel, Mn
Owner: City of East Bethel/MCES
Engineer: Bolten and Menk
Contract Value: $13.7 Million
Project Description: S.R. Weidema installed Gravity sewer, Forcemain and Watermain through existing roads and across wetland areas with water tables that were only a few feet below existing ground levels. Many of the areas had 20'-30' of ground water that had to be dewatered for the installation of the pipes.
15480' of 8" – 60" gravity sewer with depths 0-40' deep.
7000' of HDPE Forcemain.
14300' of 8"- 24" Watermain.
5700' of Wetland Crossing.
14990' of Dewatering.